Wood Briquettes Making Machine

Wood Briquettes Machines Manufacturer
Wood Briquettes Making Machine for Sales
Biomass briquetting machines are used to make wood briquettes from wood. It can process different types of woods and other kinds of raw materials, as well. A good quality machine to make wood briquettes has high efficiency (consumes less energy and produces more briquettes). It is also made up of high quality material due to which it requires less maintenance and is more durable. A profitable wood briquette machine will be easy to operate and function. (Read more: Rice Husk Briquette Machine Price >>)

Mechanical briquetting press is a kind of wood briquette making machines. There are usually two models of this equipment. One has the 0.5 tons to 0.8 tons per hour capacity while the other has 1.2 tons to 1.5 tons per hour capacity. These models can produce briquettes of varying dimensions.
Technical Parameters of Wood Briquette Making Machine - Mechnical Type
Model
GC-MBP-1000

GC-MBP-2000



Main parts
Briquetting machine

Briquetting machine

Conveyer

Feed box

Control cabinet

Control cabinet

Briquette Specification
Dia.:8mm, 70mm
Dia.:18mm, 30mm, 50mm, 70mm
Capacity
0.5-0.8 t/hr

1.2~1.5t/hr

Density
1000~1300kg/m3

800~1200Ton/m3

Power of main engine
45KW

55KW

Weight
7000kg

8000kg

Overall dimension
Host machine: 3.4mX2mX1.8m
Control cabinet: 1.2mX0.6mX1.2m.

3300x1500x1460 mm

Set up Commercial Wood Briquetting Plant at Low Cost
Depending on the condition of your raw material, you may need more kinds of equipment like dryer, crusher, etc. to make dense and market standard briquettes. In this cases, setting up a wood briquettes making plant can efficiently to produce high quality wood briquettes. (Read more: Briquetting Plant Setup Cost >>)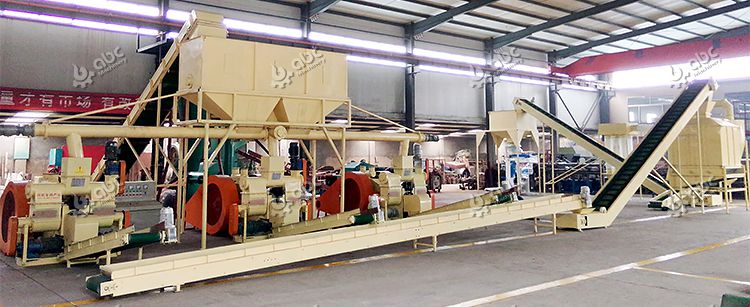 Wood Briquetting Plant Setup
How a Briquetting Machine to Make Wood Briquettes?
Low cost machine to make wood briquettes – factory price punching briquettes machine for firewood briquettes making: buy wood briquettes making machine from biomass briquette equipment manufacturer or supplier at factory price, get FREE technical instruction of firewood briquettes making process and business plan to set up wood briquetting project in The Czech Republic, Guatemala, South Korea, Japan, Thailand, Indonesia, etc., at low cost.

Advantages of Using Wood Briquette Machine
A machine to make wood briquettes compresses wood and makes briquettes that are of high value. You can use it to make briquettes for your own use (cooking, heating, etc.) or for making briquettes to sell in the market. There are numerous benefits of wood briquette machine. Some of these advantages are:
Can Convert Wood Logs into Useful Briquettes
Wood logs, wood chips, and similar wood products that are of no use can be converted into valuable briquettes with the help of wood briquette machine. The wood logs or chips are first grinded into small particles, which are further processed, then fed into the briquette machine. So, this machine is highly useful to convert wood wastes into briquettes of great value. (Read more: Biomass Briquettes Manufacturing Process >>)
Can Process a Variety of Raw Materials
As the same process is used to make briquettes from a variety of raw materials, so, a wood briquette machine can be used to make briquettes from any kind of raw material (branches, leaves, grass, etc.). If you have different raw materials available, you can easily convert them into briquettes with the help of wood briquette machine.
Briquettes of Varying Diameter can be produced through it
Based on the purpose of use, briquettes are produced in different sizes. You can produce briquettes of different dimensions with the help of wood briquette machine. If you are interested in making pellet sized briquettes then this machine will make small briquettes. If you need briquettes of large diameter, it will start producing large briquettes as well.
The raw material used to make wood briquettes takes more area and is difficult to transport. But once, it gets converted into dense and solid wood briquettes, it becomes very convenient to transport to distant place. So, use this machine to make easy-to-transport briquettes.