ZLSP 230C Pellet Mill
Pellet Mill Parameters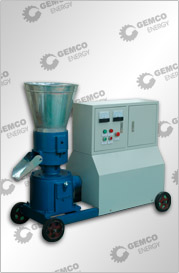 Type: ZLSP230C
Driven by: Electric Motor
Power: Three phase 11
Output: 120-200 kg/h
Weight: 290/320 kg
Package Size: 1200x560x950
Application: Widely used for biomass pellets from wood wastes, sawdust, banboo powder, farm residues, agricultural residues, rice husk, straw, maize straw, cornstalk, sunflower seed shell etc.

How to Make Sawdust Pellets?

Then, how to make fuel pellets from sawdust? The process of small scale sawdust pellet production by use of a single pellet machine is very simple, just three steps.
As sawdust is already small enough for pelletizing, the first step of sawdust pellet production is water content adjustment. Generally, 8%~15% is ok.
Then, feed the sawdust into your pellet mill. For small scale pellet production, flat die pellet mill is recommended usually.
After pelletizing, cool the pellets to room temperature before bagging or storage. You can choose natural cooling or mechanical cooling by use of pellets cooler.
Then, store and enjoy your sawdust pellets!
Small Sawdust Pellet Machine for Sale (flat die)
We offer two kinds of small electric pellet machine, one is C type which is designed with covered engine. The other is B type which is designed with exposed engine. Both these two kinds are flat die mill, as you can see in the bellow picture.

| Type | Power | Output (kg/h) | Weight (kg) | Package Size (mm) |
| --- | --- | --- | --- | --- |
| ZLSP 230B | Three phase 11kw | 120-200 | 290/320 | 1180x540x1000 |
| ZLSP 230C | Three phase 11kw | 120-200 | 290/320 | 1200x560x950 |

View ALL the parameters of our small pellet mills>>
For the ones who want to start an industrial scale sawdust pelletizing business or make large scale of wood pellets from large wood materials such as wood bricks, wood chips or wood shavings. The process might be a little complicated. Don't worry about the complicated process, leave it to ABC Machinery. Just tell us your needs and budget. Then our salesman will offer you the best customized project plan. Feel free to contact us! We are always at your service!
Sawdust is the main residue of wood processing factory. Traditionally, they are make into particleboard in furniture factory, or turned into wood pulp in paper mill. Besides, sawdust can also be used as mulch, replacing clay cat litter.

Nowadays, sawdust is playing a great important role in wood pellet production. Sawdust pellet production is a promising business to invest. In recent years, hundreds of sawdust pellet plants are built all around the world.
Application of Sawdust Pellets
Ideal alternative of traditional fuel such as gas and coal.
Heating or cooking fuel burned in pellet stove. Suitable for home, farm, school and hotel, etc.
Large scale sawdust pellets are widely applied in thermal power plants.
Sawdust are also good choice for making cat litter pellets.
Sawdust pellets can also be used as animal bedding for chicken, cow, horse…
Why Sawdust Pellets Turned Black during Pelletizing?
When the sawdust or other wood materials are pelletized, its color changes to take the black color in some cases. There are several reasons why the sawdust pellet becomes black following pelleting. After many years of continued research to determine the reasons why compressed pellets turn black, expert researchers came up with the following conclusions:
The raw materials used in making the wood pellet, including sawdust and other kinds of wood wasts, rise up to between 190-200 degrees on going through the sawdust pellet machine. Consequently, these materials turn black by the process of carbonization as they pass through the die holes. When pellets turn black, it affects the overall quality and the thermal value of pellet fuel. The blackening of pellet increases the thermal value of the fuel, thereby affecting its overall quality.
Different kinds of sawdust have different moisture contents, which affect the overall fuel produced after compression. Pellets do not form when the moisture content of the sawdust exceeds 25%. Sawdust with moisture content between 20-25% produces a lot of vapor during the pelletizing process. It results in a pellet fuel with low density and many structures, which can be categorized as low quality wood pellets. The moisture content of between 15-20% produces high quality pellet fuel with an elegant surface. The pellets produced have high thermal value, high dryness and may exceed 5cm in length. High quality pellet fuels are popular among the clients. The moisture content between 10-15% also produces the pellet fuels. The pellets produced by this moisture content are somewhat short with low density, but they can also turn black with ease. Pellet fuels at this moisture range have a bad outlook and low quality.
Conversion of raw materials by enzymes
In some cases, the saw dust has suffered enzymes, wind and rain. After compressed by sawdust pellet machine, the wood dust becomes density pellets with dark color, good luster and fewer fractures at the surface. However, the thermal value of the product becomes low because of the enzymatic reactions and changes undergone. Many clients do not approve this kind of pellet.
How to Make Good Quality Wood Pellets?

The pelletizing process encompasses several steps that require proper conditions. These are some of the conditions required to produce high quality pellet fuel from sawdust, wood chips and other kinds of woody materials, which clients approve. Check them out:
The recommended size After Crushing
The wood materials such as wood shavings or wood chips that are to be used in wood pellet mill must be crushed using the wood crusher or crushing machine. The overall size of the crushed wood materials is contingent upon the size of die holes along with the diameter of the pellet. Holes that are too small or too big may significantly affect the pellet production, considering that some materials may not be discharged effectively. Different pellet producing factories have different requirements regarding the size of the crushed material. Consult before making any purchase.
The Stickiness of the Wood Material
The feedstock without stickiness is easy to compress by the wood pellet mill or sawdust pellet machine. If it has no stickiness, it is easy to crush as it is loose and is deformed during transportation.
Moisture Content of The Wood Material
When undergoing the pellet making machine, the material being crushed should maintain a specific scope. Dry materials cannot form a pellet, whereas those that are too wet are easy to get loose after pelletizing. Both of these factors affect the output of the wood pellets. Every factory or wood pellet plant that produces pellets has its specific moisture content in which it specially adapts. Nevertheless, the moisture content of end products ought to be kept below 13 percent. The recommended standard for wood pellet mills that use the pellet with no enzyme change after compression is 13%.