ZLSP 200C Pellet Mill
Pellet Mill Parameters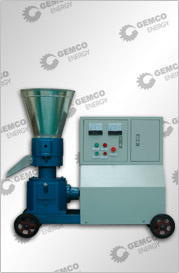 Type: ZLSP200C
Driven by: Electric Motor
Power: Three phase 7.5
Output: 80-120 kg/h
Weight: 210/230 kg
Package Size: 1050x550x830
Application: Widely used for biomass pellets from wood wastes, sawdust, banboo powder, farm residues, agricultural residues, rice husk, straw, maize straw, cornstalk, sunflower seed shell etc.
Attentions to Operations of Small Pellet Presses
The operators should go over these instructions carefully and fully comprehend the character, structure and application method of flat die type small scale pellet press (pelleter or granulator). Troubleshoot and debug, use and keep maintenance of the pellet press as per the regulations.
Before connecting to the power source, first check whether the ground cable is working. Connecting to the power and starting the pellet press is seriously prohibited before connecting the ground cable.
Don't examine or replace spare parts with live cables. The operator risks shock or getting injured this way.
When the serviceman is maintaining the pellet press, stop the machine, cut off all electricity supply and display a warning sign to minimize incidences of human error accident arising from unexpected machine operation.
Special lubricant should be applied into the bearings of compression rollers in the pellet press machine every 12 hours into the operation of the pellet machine.
Please remember to cut off the electricity when rotating compression rollers by hand. Caution: do not touch the rotating compression roller and flat die with your hand or any other foreign objects.
Ample clearance of below 10 mm between the compression rollers is recommended; too little clearance gives rise to over wear resistance between compression rollers and flat die or may even damage the entire pellet press.
Temperatures of below 10℃ in the small pellet press makes it easy for the lubricant of the pellet mill to freeze. Please ensure the small pellet press is 10 ℃ warm then start the machine.
What are the differences between R type pellet press and a D type pellet press?


D-type Vs R-type
D type is plainly called rotating die. R type is rotating roller type. Mechanically, the main difference is in motion pattern of die and roller and in the transmission components. Pricewise, with the same configuration (power, capacity etc), a D type pellet press is cheaper than the R type pellet press because R type has a smarter design for pelletizing process plus a better gear box, although these two types are both capable of producing quality pellets.
In the place of rotating die plate, there are two rollers running around the central driven by a main shaft while simultaneously rotating themselves, introducing a positive force to the raw materials. With the dual action, not only is the raw material well pressed, but it is mixed. A sturdy shaft allows it to easily resist a harder counterforce that comes about from hard wood and other material, allowing R type a wider range material application.
D type and R type pellet mill, which is suitable for me?

As aforementioned, both types are in the same way competent in making quality pellets.
Our D type pellet press is pretty much a standard version. It has straightforward design and function to produce quality biomass pellets from a variety of material. D type is selected for the most part by majority of the starters.
R type is pro version pellet press with a smarter die and roller movement outline using a superb gearbox, improved function with a higher price. It is the best choice for clients with strict requirement and a broad budget to work with.
Do I have to go to your factory for a tutorial in how to operate the pellet mill?
Not necessary. 24x7 hours email and phone service is available. ABC Machinery is prepared to answer any particular questions regarding our pellet machine and pellet plant. Also, we arrange teaching videos in terms of installation, lubrication, trial running, replacement of parts and so following.
What are the terms of warranty and spare parts?
Our flat die pellet presses come with a 1 year quality assurance from the date recorded on goods shipment. When mentioning spare parts for a pellet press, generally we include die, roller and bearing. Practically, the need to renew spare parts now and then depends on what materials you are using to make pellets. In fact, compared to producing straw pellets or hay pellets, a pellet mill that is producing wood pellets calls for a higher frequency change in spare parts.
ABC Machinery supplies quality dies, bearings, rollers and other parts of pellet press. Clients can place orders at any time they feel like. If you are in need of spare parts, please contact your local sales representative or our support team in writing.