ZLSP 150A Pellet Mill
Pellet Mill Parameters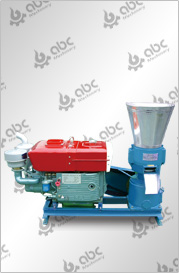 Type: ZLSP 150A
Driven by: Diesel Engine
Power: 8hp
Output: 50-100 kg/h
Weight: 180/220 kg
Package Size: 1000x500x750
Application: Widely used for biomass pellets from wood materials, sawdust, farm residues, agricultural residues, rice husk, straw, maize straw, cornstalk, sunflower seed shell etc.
This is a small pellet mill driven by diesel engine. It is mainly consisted of feeder, flat die, roller, gear bearings and diesel engine. Unlike ring die pellet mill, flat die pellet mill is generally used for small scale pellet making such as make pellets at home or on the farm. This small machine can process various kinds of biomass materials.
Suitable Raw Materials for This Small Diesel Pellet Mill
Wood wastes including pine tree waste, spruce tree waste and other sawdust wastes.
Corn stalk, peanut shells, maize straw and other farm wastes.
Wood shavings, tree branches and other parings from furniture manufacturers or wood working factory.
Flat die and roller are the key parts of small pellet mills. The die and roller parts must be anti-bearable and not easy to be broken. The roller and flad die of GEMCO Diesel Homemade Pellet Mill is made from precise material of alloy metal. There are money holes on the pellet die. The holes of the die have 6-8 mm diameter for making different sizes of pellets. Customized pellet die is also aviable, so feel free to contact us an tell us your needs or requirement.


Flat Die Structure

Flat Die Manufacturing Process
As a new type of wood fuel which is much cheaper than fossil fuel, wood pellets are getting more and more popular in recent years. Actually, making wood pellets at home is not that complicate as you think. Then, let's see how to covert wood to pellet.
How to Make Your Own Wood Pellets at Home?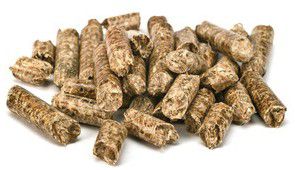 Equipment you'll need: Homemade Pellet Mill or Small Flat Die Pellet Machine.
There are diesel pellet mill, electric pellet mill, gasoline pellet mill and PTO pelletizer for sale. Choose the most suitable one depending on your needs.
First of all, you need to find accessible and suitable raw materials for pelletizing. The ideal materials for home pellets making are dead leaves, sawdust, straw or dry grass. It might be not easier for individuals to make wood pellets from materials such as wood chips, twigs or branches, since these large block materials need to be crushed by a crusher or hammer mill before pelleting.
Adjust the water content of the raw materials. A sprinkling can will be helpful.
Feed the materials into the homemade pellet mill. After squeezing through the holes on the pellet die, finished pellets will fall out of the pellet mill.
Cool the pellets before packing them in bags for storage. It is suggested to screen out loose dust particles or broken pellet and collect the density and hardened pellets.
Learn to make fuel pellets from different materials:
Industrial Pellet Making Process
The materials for industrial pelletizing process are very broad and they can be in various different forms (kiln dried, partial dried, freshly cut, green…). Saw dust, wood chips, wood shavings, branches, peanut shell, agricultural residues, and even full trees unsuitable for lumber are all available for industrial pellet making. After pelletizing, these materials will have consistent burn characteristics, ash content, moisture content and heat value.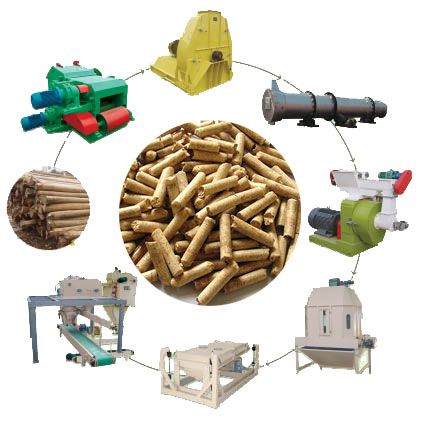 Equipment needed in industrial pellet making process: chippers & hammer mill, dryer, pellet mill, cooler, packager, conveyor, etc.
Learn more about large scale pellet production line>>
Feel free to contact us if you need detail information about this small diesel pellet mill.