ZLSP 200P Pellet Mill
Pellet Mill Parameters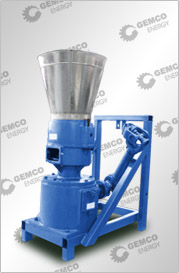 Type: ZLSP 200P
Driven by: PTO (Power Take Off)
Power: ≥15hp
Output: 80-120kg/h
Weight: 130/150kg
Package Size: 1000x540x1020
Application: Widely used for biomass pellets from wood materials, sawdust, farm residues, agricultural residues, rice husk, straw, maize straw, cornstalk, sunflower seed shell etc.

The PTO pellet machine is different from the conventional electric pellet machines or gasoline pellet machines because it can be powered by a PTO (Power Take Off) from a simple tractor or a truck. It is easy to operate and is powered through a PTO shaft which connects the machine and the truck. It is specially designed for home use. Due to its easy to use technology it has become a popular choice in farms with a tractor or a truck.

The sheer range of raw material that can be used makes it very useful for farmers, and no wonder most experienced farmers rely on PTO type pelletizing machine for making biomass pellets from organic residues like wood shavings, straw, corn stalks, seed hulls, sawdust, rice shells, grass, and, alfalfa, etc.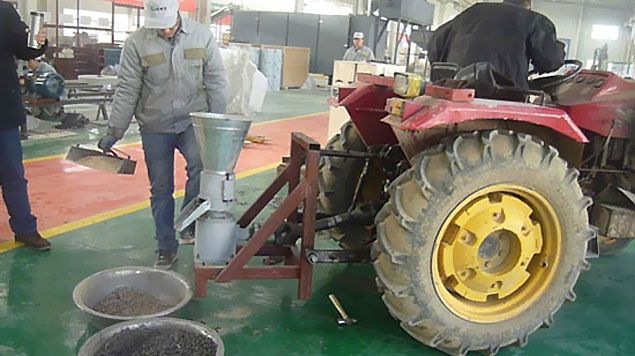 Highlights of Small PTO Pellet Machine
These are the features and trends in the use of PTO pellet mill machine: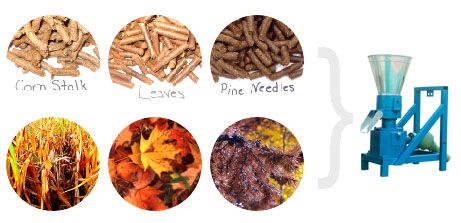 Market Demand: To operate a PTO type small pellet mill no further investment is needed and it is modeled for small farm owners and farmers who have access to organic farming residuals which can be converted into biomass pellets and a truck or a tractor. It has no engine so it's easy to maintain and cheaper to use than traditional mills.
Easy Use: It is extremely flexible to use as it can use any kind of engine whether it's an electric engine, a diesel one or a petrol one, the PTO pellet mill runs on any kind of connected engine. It has no space and energy constraints and is very easy to use. The added mobility is of great advantage for small farms owners. It is also easily customizable to you power take off system.
Capacity: The symbiosis of ingenuity and technology has developed the PTO pellet mill machine to be highly efficient. It not only consumes less power but also has higher productivity. It can process an amazing 40 to 880lbs/h, which depends on power supply. It is possible to achieve this due to its intrinsic design and a strong power source.
Mobility: The Power Take Off design has made the mill more mobile than ever. As it is ergonomically designed with smaller size and volume plus lighter in weight, it is much easier to carry it around. Operate it at your choice of location as setting it up is a child's play.
Speed: There is no independent speed controlling mechanism inside the PTO pellet machine, but with some experience it can be easily controlled indirectly by changing the speed of the external power supply, like the truck engine. The speed is purely dependent on the feeding speed of the external source.
Security: Though safe in general, the operators of the PTO pellet mills are advised to get a protective cover. When the machine is turned on it is very important for the operator to know the instructions quite well.
Limitation: The main challenge in PTO machines is it is driven by an external source of power. It can affect the production of pellets as it can slow down the operations. But, there is always a solution for a problem. A number of customizations allows you to choose the best model for your needs. Don't hesitate to contact the GEMCO engineers for specific solutions to your specific problems.
Pelleting Video: How PTO Pellet Machine Works?
How to Choose a Suitable Flat die Pellet Mill
Flat die pellet mills can be categorized into three broad areas depending on the power source.
Based in the working principle it can be classified into two areas.
With so many choices, it can be a bit confusing to choose a proper pellet machine just for your needs and requirements. Read on for the following tips on how to choose the perfect flat die type biomass pellet machine.
Power Availability: The main factor to consider while buying a small pellet machine is the type and capacity of your power source. There are different types of engines like electric, diesel and petrol. Choose what suits your needs the best. If you have access to electricity go for it, or it oil is cheaper go for the diesel or the petrol one.
Raw materials: The next important thing to consider while buying a tractor-powered pellet machine is the raw material which is available to you for making the pellets. Generally, a plethora of organic substances like kernel shell, waste straw, paper, grass, sunflower husk, saw dust, baggase etc. If the materials are scattered around you and you also own a truck or a tractor, then the PTO is a good choice. If you are planning to work with some harder materials like wood from Iarch, cedar, pine and spruce the die rotating type can be a good choice. It applies more pressure to the working material. If you are working with hardwood then AZSPLM 350 flat die pellet is the companion you are searching for.
Price: As it has no engine of its own, flat die pellet machine is a very cheap option. For making pellets out of hardwood you can choose the reliable Roller rotating mill which uniformly process hardwood with extremely precision. For softwood the die type would be more than enough to satisfy your needs.
Whatever your needs are, you will always find a solution in our website. We have a variety of well designed and engineered simple machine that can turn your fortunes for the good. Explore our website to find out more about wood pellet machines and feel free to send an inquiry if you are interested in our machines!