ZLSP 260B Pellet Mill
Pellet Mill Parameters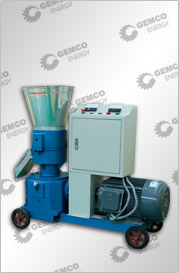 Type: ZLSP260B
Driven by: Electric Motor
Power: Three phase 15
Output: 160-250 kg/h
Weight: 320/360 kg
Package Size: 1240x540x950
Application: Widely used for biomass pellets from wood wastes, sawdust, banboo powder, farm residues, agricultural residues, rice husk, straw, maize straw, cornstalk, sunflower seed shell etc.

I need a pellet mill for wood 3-5mm, 10-15% moisture. Capacity for wood pellet 200 kg/hour. iI have some electric motors, 380v, at 17 annd 22 kw. Can u provide this pellet mill without motor?
According to your capacity 200kg/hr , the model ZLSP-230 D-Type and ZLSP-300 R-Type is suitable for your use.


You can choose the D-Type and R-Type according to your wood materials.

For the soft wood materials , Used the D-type is more convenient and economic .

If the wood materials is the hard , it is best to use the ZLSP300 R-Type.

If you want ship the machines to your place , please tell me freely , so I can provide you the best shipping costs

I will chose the ZLSP-230 D, with a spare parts set (roller and die). Please tell me the transport cost, I am from Targoviste, Romania.
The shipping costs is USD 230.