ZLSP 260C Pellet Mill
Pellet Mill Parameters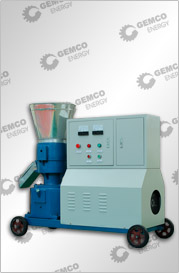 Type: ZLSP260C
Driven by: Electric Motor
Power: Three phase 15
Output: 160-250 kg/h
Weight: 340/370 kg
Package Size: 1240x580x1000
Application: Widely used for biomass pellets from wood wastes, sawdust, banboo powder, farm residues, agricultural residues, rice husk, straw, maize straw, cornstalk, sunflower seed shell etc.

These Are Six Benefits of Fuel Pellet Mill
Six Benefits Of
Small Home Use Pellet Mill
, which is also named as Pelletising Machine. There has been a lot of concern when it comes to manufacture of the pellets. This is because of the various that of machines that are used during the manufacturing of these pellets. Most of them in the past have been seen as among the machines that pollute the environment this has led to the development of those that are environmental friendly and do not have any environmental pollution. The following are the benefits of
small fuel pellet mills
.
Reliable continuous operation.
The ability of the machine to be used for its activities is reliable since one can be able to operate it any time that one feels. This is because one does not require any assistance from other people during its operation which is the best choice for those who would like to employ themselves as the workers in their farms.
Has adjustable compression rate.
The
pelletising machine
has been made in a way that it can be adjusted to various sizes. This is important because one can be able to get various sizes of materials that have been compressed. This helps one to make sure that the best materials are got according to the demand of the individual.
Has a clutch and accelerating- decelerating device.
This is important because the machine will be able to fit into various circumstances that are subjected to. The clutch is able to be used to change the gears of the machine from one position to another according the required capacity that it is subjected to work in. on the other hand it has accelerating-decelerating device because of the different times that there will be a change of speed during its operations. This is so because at other times they will be required to increase or reduce the speed.
The amount of money that is required to maintain the machine is much lower than any other machine. This is so because one is able to easily acquire the technician to do the repairmen or by it by self when broken down. This is because the machine is not made up of complicated procedures that require a specialist to repair it.
It is a portable and simple structure.
The machine is able to be transferred from one position to another with a lot of ease. This makes one to be in a comfortable position when wants to use it as it can be easily transferred from one place to another. It is also simple structure that is not made up of complicated materials that always need a specialist to operate. This is important because the machine can be operated by anyone interested in using it.
Has visible chamber design.
The working of the machine can be easily viewed. This is important because one can be able to easily identify a problem when it arises and solves it immediately to avoid much more complications from a rising further. This helps to make the machine more efficient when being used as it can be repaired easily when faced with any mechanical problem.
These are the six benefits of fuel
pellet machine
or wood pelletising machine.