ZLSP 260A Pellet Mill
Pellet Mill Parameters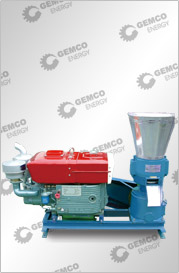 Type: ZLSP 260A
Driven by: Diesel Engine
Power: 35hp
Output:160-250 kg/h
Weight: 330/360kg
Package Size: 1200x500x1070
Application: Widely used for biomass pellets from wood materials, sawdust, farm residues, agricultural residues, rice husk, straw, maize straw, cornstalk, sunflower seed shell etc.

The 260A small pellet mill is equipped with 35Hp diesel engine. Is it still necessary to add electric starter and battery?
Diesel engine with the power of more than 35Hp (including 35Hp) is equipped with electric starter itself, so there is no need to add extra electric starter or battery.
Is it possible to make the hole size of pellet die 1.5mm?
I'm afraid not. The minimum pellet die size is 2mm.