ZLSP 200P PTO Feed Pellet Mill
Feed Machine Parameters
Type: ZLSP 200P
Driven by: PTO (Tractor Powered)
Power: ≥15Hp
Output: 200-300 kg/h
Weight: 210/230 kg
Package Size: 1000x540x1020
Suitable Materials: beans, rice, wheat bran, maize, corn, etc.
Application: Widely used for making poultry, cattle, chicken, shrimps, rabbit, fish, forage and other kinds of animal feed pellets.

About Tractor Powered Feed Pellet Mill
Feed pellet mill is also known as feed machine, grain feed machine or animal feed pellet milling machine. This ZLSP 200P tractor powered feed pellet mill can process grass, straw, rice husk, soybean, corn into pellets directly. As its name suggested, this PTO feed machine can be driven by tractor. (You maybe also interested to known about feed pellet mill driven by diesel engine, electric motor or gasoline engine)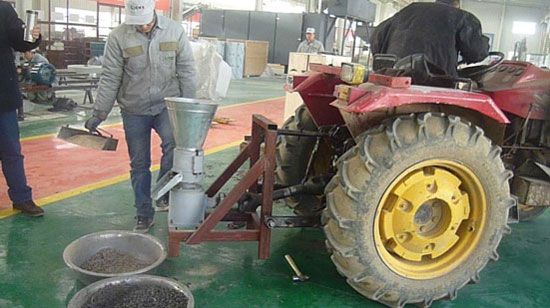 How PTO Pellet Mill Works?
According to the machine structure, feed pellet mill can be divided into flat die type and ring die type. According to application, it can be divided into, poultry feed pellet making machine, fish feed pellet press, rabbit feed milling machine, pig feed pellet machine and cattle feed pelletizing equipment, etc. According to production, there are
small feed pellet mill
for home use, large ring die feed pellet machinery and feed pellet plant.
Application of Small Feed Pellet Mill
This small tractor powered machinery is very popular among famers, home or individual uses. It is also widely applied in small to large aquaculture, animal feed processing factory, and poultry farms, livestock husbandry.
Prospect of Feed Pellet Mill
How to reduce forage cost and improve feed nutrition is the very first problem every famer wants to solve. Straw biochemical protein feed technology is aimed at turn crop straw into high quality animal feed. Through crushing, fermentation, pelletizing and other process, soften the lignin in the straw and degrade it into crude protein, crude fiber, crude fat or other materials which is easy for livestock to digest or absorb. Fermentation will generate large quantities of bacterial protein which is soft and sweet, so the final straw feed pellets will be not only healthy but also tasty for animals. That is to say, make the best use of feed pellet mill machinery can help reduce grain investment, save feed costs and increase farmers' income. (The nutritional value of1 ton straw feed pellets equivalent to 270kg grain feed)

Feel free to contact us if you want to know more about small tractor powered feed mill and how the machine works.