BPM35 Pellet Press
Wood pellets are made from various kinds of biomass materials including shavings, saw dust, fines left over after processing trees. After dried, compressed and pelletized, biomass fuel becomes clean, smokeless, dentist and convenient to transport.
Ring Die Wood Pellet Press Machine for Sale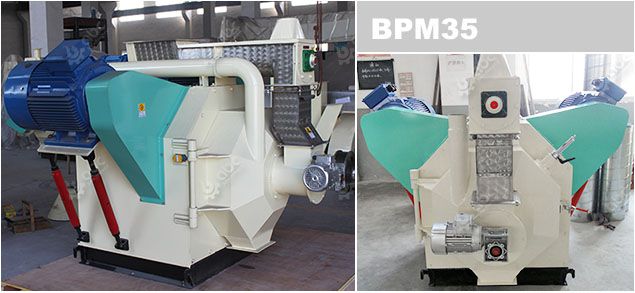 BPM35 Pellet Press (The color can be customized if needed)
BPM series ring die wood pellet press equipment is mainly composed of ring die type pelleting device, feeder and conditioner. The main set of ring die pelleting device is composed of motor driving system, cutting knife assembly, roller, ring die, main shaft, machine shell and machine body, etc.
| Model | Capacity (kg/h) | Power (kw) | Dimension (mm) | Weight (kg) |
| --- | --- | --- | --- | --- |
| BPM35 | 500-800kg/h | 30*2+0.75+0.75kw | 2150*1950*1900mm | 2200kg |
Pellet Press Details
Features of GEMCO Wood Pellet Press
Adopt double motor SPB strong narrow belt transmission system which ensures high yield, smooth running, high transmission efficiency, low noise, low maintenance cost and no oil pollution.
Adopt aerodynamics technology & the current round principle which can reduce the temperature in pelleting chamber and keep it around 90°C so that to ensure the equipmant can work well continuously.
The pore diameter of the ring die ranges from φ 1.5 to φ 12mm and you can choose the size depending on your needs.
Timing feeder can control the feeding speed to lower the block ratio.
This wood pellet press adopts frequency converter control feeding and is equipped with a discharging structure and an overload protection device.
The machine body is made from ductile iron making it more durable.
A fixed stainless steel pelletizer with a more visual adjustment; A quick detachable anchor ear circular mould which can be equipped with a coordinated pressing roll regulating structure and a circular mould lifting device.
Capacity is increased by adding another force feeder made from stainless steel to increase the feeding spread area.
The compression bar oil pump lubrication device is convenient, reliable, quick and save, making it possible to refuel without stopping.
High efficiency, low power consumption, stable operation and pelleting production.
The pelletizing chamber is equipped with a cooling system which can help reduce temperature in the chamber and extend the service life of roller.
Application of This Wood Pellet Mill in Projects
View the biomass pellets manufacturing projects below to know more about equipment layout and factory constuction details.
| Making Biofuel Pellets from Wood Materials / Wastes | Make Biofuel Pellets from Other Biomass Materials |
| --- | --- |
| | |
Why make wood pellets?
Reduce our dependence on coal and gas.
Wood pellets are eco-friendly, renewable and clean fuel resource.
The heat value of one ton wood pellets equals to about 1.5 ton woods. However the storage space is only one third of woods.
The price of wood pellets is more cheap and affordable than woods fuel.
The popularity of pellet stove promotes the growth of fuel pellet market. Besides, the emissions when using pellet stove are proved to be very low than burning restrictions.
There are sufficient and cheap biomass materials for making fuel pellets.
Turning wood wastes into wood pellets is an ideal way of disposing biomass and wood wastes.