wood pelleting machine
How do you go about buying a qualified pellet machine to produce quality biomass pellet fuel? When thinking about buying a qualified wood pelleting machine you have to know about the pellet making process to fully understand what is going to make the best pellets.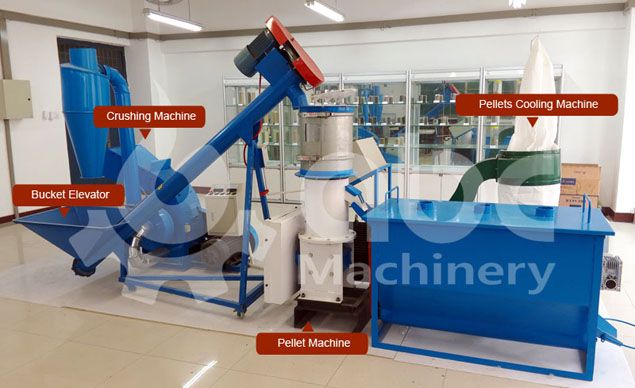 HOT Sale Small Scale Biomass Pelleting Equipment Unit

What's CE marking for Pellet machine?
This marking is there to make sure the biomass pelleting machine can be accessed safely. With the markings comes with health and safety requirements. The European markings are very mandatory so that there are no lawsuits or trying to blame the company for not warning the individual once they try to use it.
What does the CE mark mean for a Wood Pelleting machine?
If your pellet machine has these markings it means that it is all set to go in regards to safety. There should be nothing wrong that can hurt you unless you do something that will get you intentionally hurt by the product itself. When trying to get these markings there is a process that you have to go through. During the process the manufacturer certifies that the product complies with a list of standards. When it does there is a signature given by the company, saying that they are responsible for this item and has made sure it met all requirements. (Related Product: Straw Pellet Machine for sale)


Pellet Machine Certification (CE and ISO9001)
Will you trust and choose a CE certified pellet Mill?
Confronted with the various pellet mills for sales in the market, will you trust and choose a CE certified biomass pellet making machine?
The CE marks can be trusted to ensure that they use the fuel in the product in households. Making it safer because it is used in cooking, heating, and power generating. Also, when using the CE markings people see them and trust that they are good products to use. This increases their confidence in the products ability to satisfy the customer. It is more welcoming and does not have the customer contemplating for a long period of time if it is worth it or not. Again, the assurance of a good product helps build confidence in the customers' ability to successfully make good quality pellets themselves at home. Never turn your back on a CE marked product, you will not be sorry.
You maybe also interested in 3-4Ton per Hour Wood Pelleting Line in Morocco >>
Basic Wood Pelleting Process

First, you need to make sure that you have all the items and products to do so. You will need to go through a process of size reduction to get the raw material. This will mean you will need a hammer mill. What this will do is reduce the size and size has a big impact on the quality of pellet you are looking for here. After reducing the size you need to make sure that the water amount is not too high. Water control helps determine the quality of pellet as well as the wood pelleting machine productivity. Once you have gotten everything together to ensure quality pellets, make sure that the pellet die and roller are properly put together. Then it will have a good rotation speed, there will be a good distance between the die and roller and template, and the compression will be good. ()