Pellet Mill Plant
Where should I start to build a pellet mill? Small, medium or large mill, which is suitable for me? Here at ABC Machinery we provide a so explicit range of pellet mills and plants. All pellet manufacturing plan and facilities are customized depending on the situation and requirements of each client.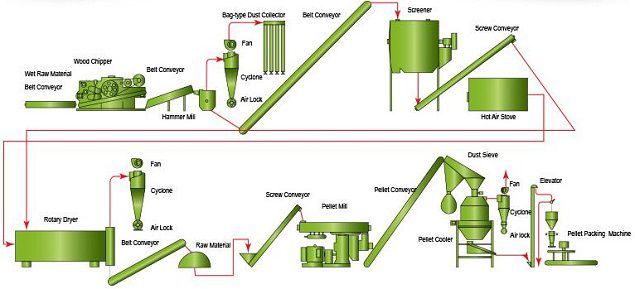 Solutions for Turnkey Pellet Mill Plant
Our pellet manufacturing equipment adopt high quantity materials. Most of the pellet mills for sale online are not designed for your budgets and projects, however ABC Machinery can supply tailor-made business plans of both mini and large pellet production, so you can always find one that is especially suitable for you. Just send an email to us to tell us you needs, and we are always at your services!
How to Build A Pellet Mill Plant?
Our small pellet mills are widely used in many countries and regions. For research such as lab testing and training or small scale trail production, we suggest you should choose the small pellet mills. We have different types small pellet mills and the capacity of that can range from 50 kg/h to 400 kg/h. we have abundant clients who produce the biomass pellets for their own pellet stoves and boilers or the feed pellets for animals. Please visit our products page to learn more information. Small pellet mill order >>


Mini Pellet Mill Facility (50~400kg/h)
Generally speaking, our medium pellet mills are used in farms for processing various different biomass materials. The output of our medium pellet mills can range 400kg/h to 800 kg/h. many clients send enquiries to us for the medium pellet mills and finally most of them would choose small pellet mill plants, which contains hammer mill (crusher), conveyor, pellet cooler, flat die pellet press and bagging machine (optional). Pellet Mill Parts >>


Small to Medium Pellet Mill Plan (400~800kg/h)
In most cases, mini, small and medium scale pellet production are designed with flat die pellet press. However, for large and complete pellet plant, ring die pellet machine is suggested.
To the large pellet mill plant, we usually design and install that depending on our clients' special requirements. The capacity of large pellet mills line can between several tons per hour to dozens of tons per hour. The yielding high quantity pellets can be used for heating and burning.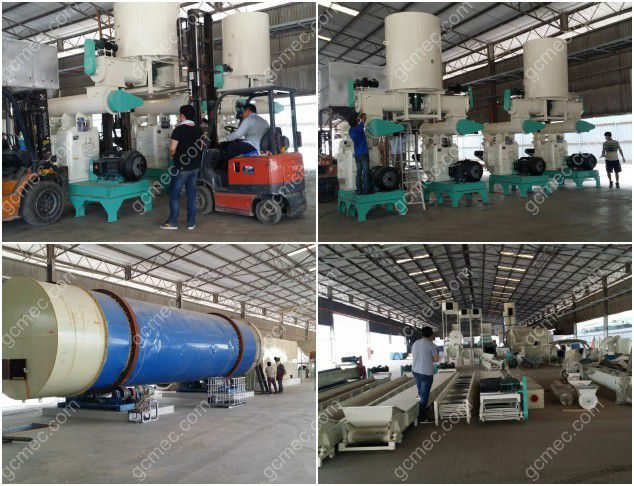 One of Our Large Pellet Making Project Build in Malaysia
Please review the pellet mill plant we can provide, if you are interest in our machines and want to learn more information, please send an inquiry to info@gcmec.com. We will help you purchase the suitable pellet machine within your budget. Welcome to consultation.
Our investment for the entire pellet machinery has to include all processes: from wood logs with moisture to pellet bags as fuel for boilers. We want to start this business with a small capacity, for later if we succeed invest in a large scale production line. Please send us a proposal that inclus, specifications of all components, and your best price so we can do business.
Small capacity of the pellet plant, what is your ideal capacity of the pellet plant ? how about 500kg/hr complete plant? For the complete wood pellet plant , it includes the hammer mill , dryer , pellet mill , cooler and the packing machine ,other auxiliary equipment.
Yes, around that capacity. 250-500 kg/h is enough for this startup. Please specify all details about each component, the more information, the better for us to know what to expect. Our raw material is Green Pinus. Natural moisture present of this specie. No treatment is done.
What is the factory voltage and frequency of three-phase power?
Portuguese standard is 3-phase 400V, 50Hz. (Almost machines can work with +-10% of designated current, but I leave it up to you to decide what is best to do)
Here enclosed the detailed equipment list and the flow chart for your reference. Please check email attachment. The price of this small wood pellet plant is USD 28463 . It is the complete wood pellet plant. The price doesn't include the installation costs and the installation materials costs.