Indonesia Wood Pellets Market Research [Business Visit]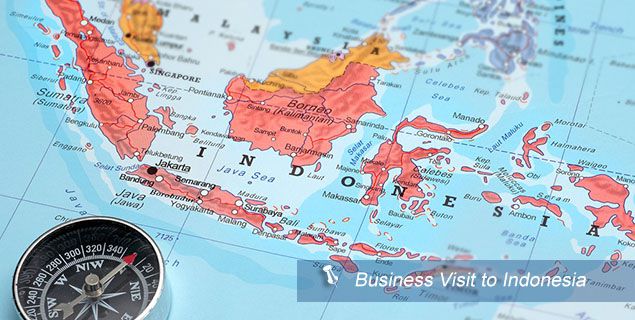 It is a fact that Indonesia has one of the largest palm tree plantations in the world. The sales team and R&D team from ABC Machinery visited Indonesia for a business tour of the manufacturing industry, with a focus on biomass pellet manufacturing and animal feed processing industry. The visit, which took place between August 19th and September 20th, 2018 was a bid to tap into the rich potential of the Indonesian market as far as biofuel pellets are concerned.

Business Meeting with Our Clients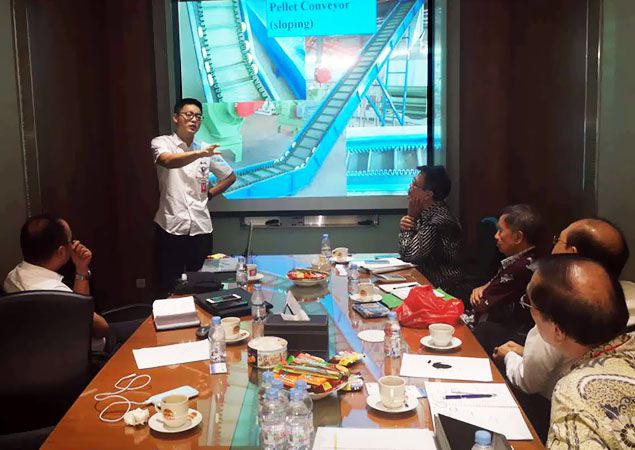 Introduction of Wood Pellet Manufacturing Process and Related Equipment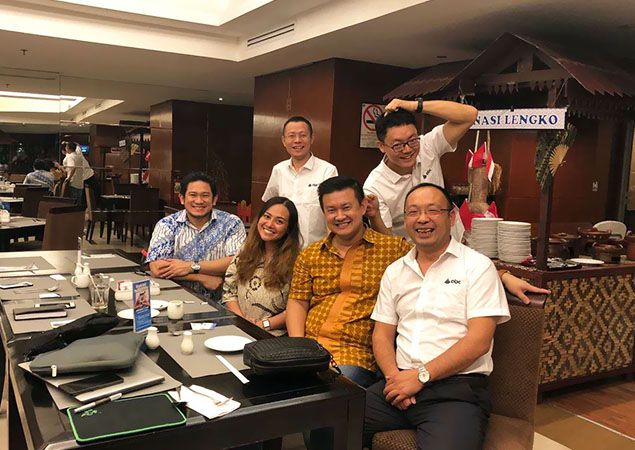 Business Talk with Our Clients
Apart from research, our team had a chance to interact with clients in Indonesia. With a clear understanding of the local market, we are in a better position to supply high-quality machines equipment. Plans are already undenivay with potential clients who want to use our pellets making machines.
Overall, the trip to Indonesia was fruitful both professionally and socially. ABC Machinery takes pride in integrity and technological advancements in developing top-tier pellet making equipment to sustain the production of biomass fuel, Livestock and poultry feed.
Biomass Pellet Production Market Potential in Indonesia
Following the major economic meltdown Asia experienced in 1998, there has been a massive rise in energy consumption. Policies have been put into place to prioritise renewable energy and limit fossil fuel based energy consumption by using biomass. One country, which holds tons of biomass potential, is Indonesia.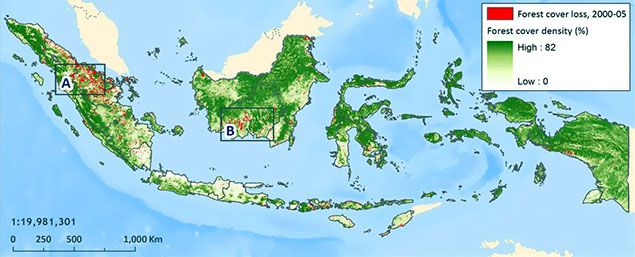 3rd Largest Tropical Forest Area, Peatlands; High Deforestation Rated
Indonesia is estimated to produce a total 146.7 million tons of biomass each year all of which can be reused to greatly support power generation as well as positively influence the economy of Indonesia. The biomass can be found all over the country, with its highest concentration found on the Island of Kalimanta, lrian Jaya and Sulawesi. These regions of biomass potential could be processed into biofuel pellets which can be used to produce a whopping 50GW of electrical energy which could strongly stabilise Indonesia's power output. With all the potential for innovation in the developing country the biomass industry is rising up the ranks quickly — with many forms of biomass usage being implemented.
Biomass Fuel across Indonesia

Studies suggest that Indonesia's main biomass resources are: rubber wood residues, rice residues, palm oil residues, and sugar mill residues, plywood residues, logging residues as well as other forms of agricultural and municipal solid waste.
Palm Oil Wastes: Serat sawit (Fiber), Cangkang sawit (Shell), Tandan kosong sawit (EFB), Pelepah sawit (Frond), Batang replanting sawit (Trunk)
Rubber Tree
Leucaena - lamtoro
Acacia
Bamboo
Grass
The incredible developments made within the pelletizing technology sector would allow for all of these biomass materials to easily be converted into efficient wood pellets to be used for renewable power generation and efficient heating. For example, Indonesia is home to one of the world's largest oil palm tree plantations; over 8 million hectares, which is estimated to reach 13 million by the year 2020. All of the biomass residues produced from the oil palm industry could easily be converted into biomass fuel or even feed pellets.


Oil Palm Wastes & Residues from Oil Milling Industry
Indonesia is a tropical country which means its forests grow quickly and with oil palm woods having a low sustainability and durability rate it makes most sense to produce wood pellets from the excess wood and residual sawdust. The pellet production would be easy and cost effective; trees could be harvested year round due to the beneficial climate and environmental factors all promoting positive outcomes both economically as well as electrically. (Related Pellet Mill Project: 1.5 ton/hour Palm Fiber Pellet Line in Malaysia)

| Feedstock | Calorific Value Kkal/kg | Moisture % |
| --- | --- | --- |
| Palm Fiber | 3340 | 30 |
| Palm Shell | 4300 | 15 |
| EFB | 1200 | 45 |
| Palm Frond | 3350 | 20 |
| Palm Trunk | 3500 | 20 |
Biomass / Wood Pellets Market Potential for Indonesian
Many favourable factors are at play for the production of wood pellets in Indonesia. As a developing country, Indonesia has not seen the environmental saturation which many first world countries have and thus its environment is conducive to the production of biomass pellets - namely wood pellets. These favourable factors include: an ample raw material supply, lower material expenses due to quantity, and high domestic and international demand for biomass or wood pellets as well as a cheaper labour force. Indonesia also has high quality automatic wood pellet production lines which would greatly decrease waste and improve efficiency.


Turn Palm Fiber into Fuel Pellets

| Energy Source | Insalled Capacity | Resource Potential | Undeveloped Potential |
| --- | --- | --- | --- |
| Biomass | 445.0MW | 49810MW | 99 |

Wood pellets are in high demand due to their high energy density which is favourable over wood chips as the pellets shape allowing for convenient storage solutions. Wood pellets also have a longer burn time and are more environmentally friendly. For these reasons Indonesia could provide to the high worldwide demand for these wooden pellets. Domestically Indonesia would be able to maintain their consumption which is mostly distributed to three sectors; industrial power, commercial and household usage while alsojoining the global market.

Global Wood Pellet Market Potential
With the increase in environmental and sustainable energy solutions taking the forefront of the energy industry, wood pellets with all its benefits and conveniences are in high demand. Countries like Sweden and the United states are both major international producers of wood pellets but at the same time are major consumers.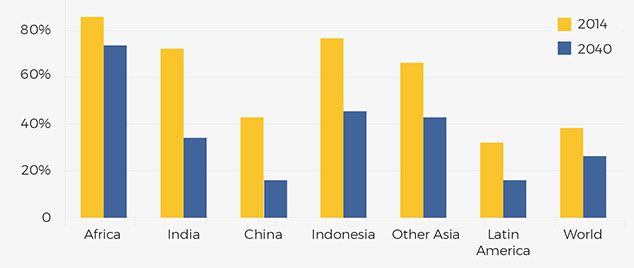 Solid biomass (Wood Pellets) in Residential Energy Use
World Engery Outlook

The same trend can be seen in Asia: Japan, South Korea and China are the major wood pellet production countries as well as the major consumers with some wood pellets even needing to be imported. Countries like South Korea went as far as to make an agreement with Indonesia for 200,000 hectares of Indonesian forest to produce wooden pellets. South Korea set up a factory for wood pellet production and imported pellet material from Indonesia further showcasing the need of wood pellets in high consumption countries.
South Korean officials and analysts, through their interaction with Indonesia in the production of wood pellets realised the potential Indonesia had within the biomass industry; specifically with regards to wood pellet production. (Our Project: 1 ton per hour Wood Pellet Production Factory Set Up in UK )
If Indonesia takes note of South Koreas findings and implement wood pellet production strategies they may very well fulfil their biomass potential and become a leading country in the worlds wood pellet industry.