Feed Pellet Press
Most of the inquiries we receive here at ABC Machinery are consulting us that our pellet mills are for animal feed pellets production or wood pellets production. The answer that we reply seriously is we market both special animal feed pellet machine and special wood pellet machine. Our pellet machines are based on the original equipment manufactured by Lister over 50 years ago. The design of the pellet press is of high efficiency and the presses can produce high quantity pellets even at current standards. Now we talk something about feed pellet press.
The importance Of Feed Pellets


Make Animal Feed Pellets by use of Feed Pellet Mill
The animal feed industry occupies very important position. Generally speaking, the feed pellets are produced for animal, fish and birds. There are especially more benefits to pellets than loose feed. You can process exactly the nutrients, minerals required and vitamins into feed pellets with our pellet presses. The animal, fish or bird will eat the whole pellet with all the nutritions as well. You cannot ensure that that all nutritional components have been ingested and consumed. Also you can control the proportion of medications and nutrition in pelleted form if a special medication is needed and you can be sure that the medication can be absorbed well.
Features Of Our Feed Pellet Press
Pellet press is also known as pellet mill or pellet machine. Our small feed pellet press can produce livestock feed pellets for a small farm and the capacity of that can range from 50 kg/h to 350 kg/h depending on different types and different materials. Below is a full plant for small to medium scale feed pellets production.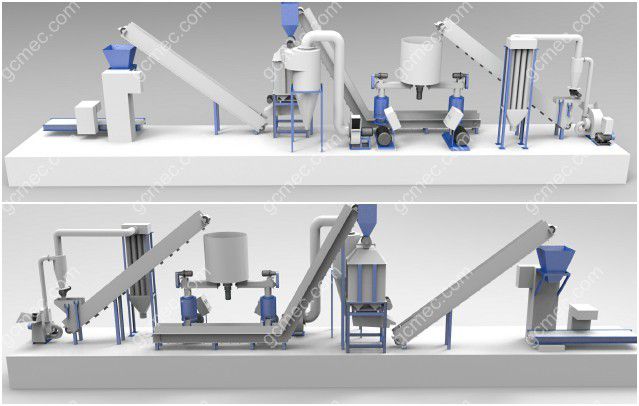 Medium Scale Feed Pellet Plan
We can also supply the medium feed pellet plant and the capacity of that between 400 kg/h to 800 kg/h. for larger farms or feed suppliers, and customized feed pellet line which can produce feed pellets a few tons to dozens of tons per hour. You can produce layers or growers pellets for pigs. The chicken feeds is resemble with pig feeds. You can also produce the horse treats or cow feeds with grasses. We developed and research a hammer mill(rusher) that nutritions can mix up accurately according to a fixed ratio. It has got consistent high praises from lots of customers .
Thanks for reading and if you want to know more about our feed pellet mills, please send an inquiry to info@gemec.com. Welcome to consulting and we are always at your service!