Complete Organic Fertilizer Production Plant


Start Your Own Organic Fertilizer Processing Business
Undertake Commercial Organic Fertilizer Production Plant Setup

Industrial Organic Fertilizer Production Plant Design & Equipment Layout
Production Output: 1-30ton/h
Suitable Raw Materials: Animal manure, domestic wastes, dead branches and rotten leaves, biogas residue, waste bacteria, etc.
Types of organic fertilizers that can be produced: Powder, Pellets (cylindrical or ball shaped)
Suitable Processing Materials: Chicken Manure, Pig Poop, Cattle Dung, Sheep Droppings and other livestock & poultry litter.
Main Equipment: Fertilizer turner, fermentation equipment, crusher, screening machine, mixer, pellet machine, dryer, cooler, coating machine, packaging machine, conveyor and other equipment.

Service

: Customized business plan, project design, cost analysis, factory layout, equipment manufacturing, fertilizer plant on-site installing & commissioning, and operation guide.
Highlights of Our Organic Fertilizer Project Plan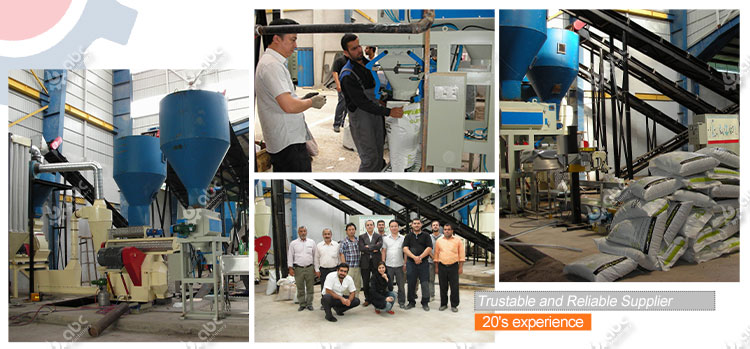 Organic Fertilizer Making Project Display


Fertilizer Processing Equipment Display
Our fertilizer production line is customized based on each of our client's special situation and requirements.
Our Projet adopt one layer factory layout design: Reduce the capital investment cost and more convenient to operate and control.
Large dip Angle belt conveyor are used instead of bucket elevator, which not only ensures the smooth conveying system, protects the fertilizer pellets, but also reduces the height of the plant, reduces the investment cost.
Contact Us Now to get BEST Price and FREE Guidance >>

Commercial Organic Fertilizer Production Process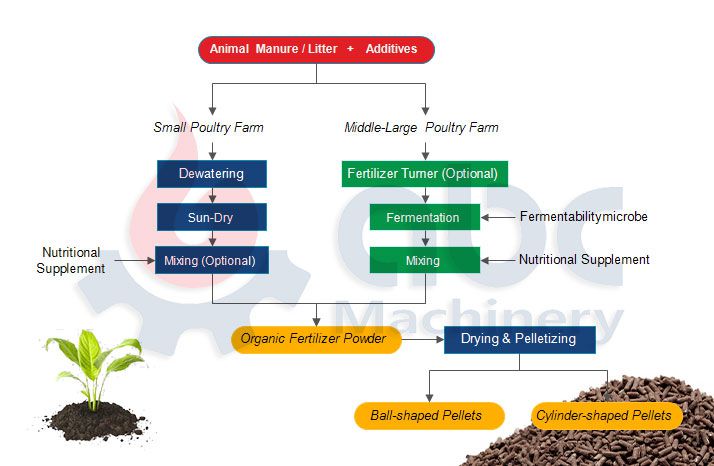 Organic Fertilizer Production Process Flow for Reference
(contact us for customzied process design)
Organic fertilizer production line is a complete set of processing equipment which can turn all kinds of livestock and poultry manure into natural organic fertilizer. The process of commercial organic fertilizer plant generally cand be divided into the following two parts:
Fermentation & Pretreatment
(Fermentation → Crushing → Adding nutrition supplement → Mixing → Organic Fertilizer Powder)
The raw materials of organic fertilizer are fermented first. And then they will be crushed and mixed with nitrogen, phosphorus, potassium and other elements (pure nitrogen, phosphorus pentoxide, potassium chloride, ammonium chloride, etc.) to make the mineral elements reach the required standard.
Further Processing (Pelletizing)

(Fertilizer Powder → Pellet Machine → Organic Fertilizer Pellets → Drying & Cooling → Coating → Screening → Packaging)
Disk Granulating Machine (to make ball shaped fertilizer particles): The granulation rate is above 90%. It has high requirements for material fineness and uniformity.
Pellet Press Machine (to make cylindrical fertilizer pellets): Easy to operate. There is no heating phenomenon in the whole extruding process, no need to dry. The pellet strength is higher.
Making the fertilizer powder into pellets makes the storage and transportation more convenient. In addition, pelletized fertilizer has better flow performance with no risk of clumping.