Home or Poultry Farm Bird Feed Pellet Making Machine
Birds like animals, humans, or any other living creature need a proper and healthy diet to stay well and live longer. People feed their birds either specific seeds or bird feed pellets. It has been found that bird feed pellets are more nutritious and nourishing for the birds as compared to the plain seeds.


Poultry Bird Food Pellet
Bird feed pellets are made with the help of animal feed pellet machine. These bird feed pellets are made up of seed, vegetables, fruits, or any other self-grown products that are mixed in a formulated ration. The raw material used for making bird feed pellets is chosen based on the type of bird that you want to feed. In addition to the raw material, extra minerals, vitamins, fats, and similar ingredients are also added to provide birds the proper nutrients that they need to grow. Poultry birds are fed with bird pellets to achieve more eggs, meat, and feathers. (Related Post: Poultry Feed Business Plan >>)
How to Make Bird Feed Pellets?
Proper ingredients are mixed in a particular ratio to obtain a balanced diet for the birds. The following steps are involved in making pellets. (Read More: Chicken Feed Manufacturing Process >>)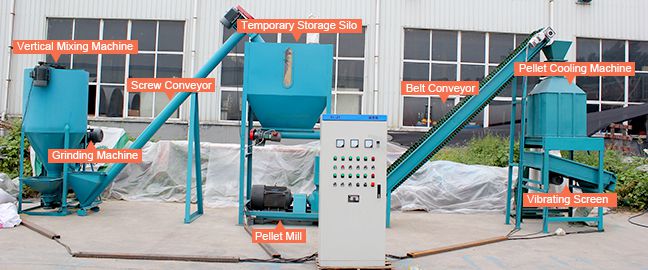 Small Bird Feed Pelletizing Line
Select the raw material that is according to your bird type. Generally, the raw material for bird feed pellets used is vegetables, fruits, and seeds that birds prefer.
The raw material is of large size which needs to be reduced in order to convert it into pellets. So, a hammer mill is used to crush and break the large-sized materials into small-sized materials that can be easily fed into the pelleting machine.
Dry this material to remove an excessive amount of moisture from it. If this step is skipped, the pellets produced will be of low quality and will start breaking soon.
Now more ingredients are added if there is a need to add them. It has been found that birds that eat pellets that have more fats in them stay more energetic. So, a balanced amount of ingredients is added to improve the growth of birds. Lignosulfonate is often added as a lubricant and binder.
This material is fed into the pipe-like feeder of the bird food pellet machine. It presses the powder like raw material and converts it into solid pellets. Rollers and dies and used to generate pellets of different shapes, lengths, and diameter.
Once feed pellet making machine gives pellets, they are dried thoroughly to get rid of extra moisture. Then pellets are packed in waterproof packets and are sold in the market.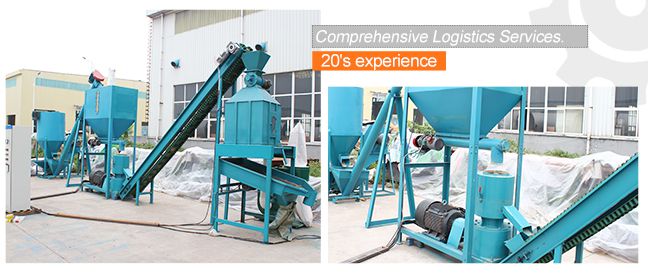 Bird Feed Pellet Making Machine for Farm Use
In order to make high quality feed pellet using various raw materials, it is recommended to have a complete set of animal feed pellet processing machines, including hammer mill, dryer, pelletizer, cooler, etc. But, choosing which equipment should be based on capacity, raw materials, final feed pellet and other requirements. If you have any questions, please get in touch with us, we have professional team to help you solve all confusion!

Small Bird Feed Pellet Making Machine for Home or Farm Uses
ABC Machinery has various small feed pellet making machine for home, farm or small business use. Every set of our bird food pellet machine is made of high quality raw materials to ensure its quality and performance. If you have any doubts about our equipment, you can have a test-run before purchasing.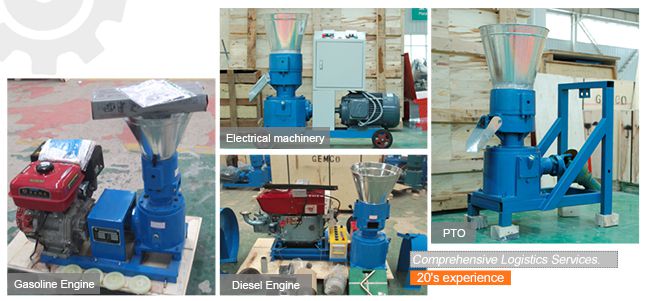 Bird Feed Pellet Making Machine
Small Bird Pellet Machine Provided by ABC Machinery can be Driven by Electrical Motor, Diesel Engine, PTO, or Gasoline Engine. Please contact us directly to get machine parameters and price lists!
Small Poultry Bird Pellet Making Machine - Electrical Type
| Model Number | Power(kw) | Output(kg/h) | N.W./G.W.(kg) | Package Size(mm) |
| --- | --- | --- | --- | --- |
| ZLSP 150B | 3phase, 5.5 | 60-110 | 105/125 | 1000*480*780 |
| ZLSP 200B | 3phase, 7.5 | 80-120 | 210/230 | 1050*550*830 |
| ZLSP 230B | 3phase, 11 | 120-200 | 290/320 | 1200*560*950 |
| ZLSP 260B | 3phase, 15 | 160-250 | 340/370 | 1240*580*1000 |
| ZLSP 300B | 3phase, 22 | 250-400 | 425/465 | 1300*620*1100 |
In addition, these machines can also be used to produce high quality feed pellets for poultry, livestock and aquatic animals, like chicken, broiler, cattle/cow, goat/sheep, fish, pigeon, pig, etc. That's why many farmers choose it. (Latest Order: Pelleted Pig Feed Making Machine Arrived in Nigeria >>)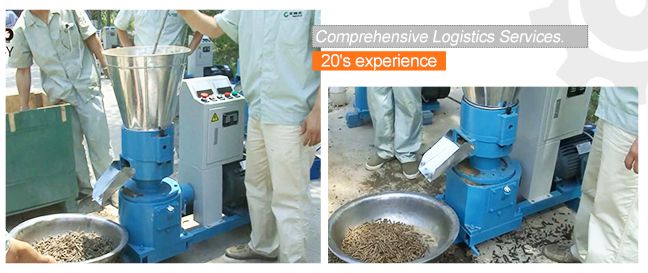 Small Bird Feed Pellet Making Machine
Test-run of Small Bird Feed Pellet Mill
Small Bird Feed Pellet Making Machine for Poultry Farm or Home Use – Buy High Quality Bird Feed Pellet Making Machine for Food Making: HOT Sale bird feed pellet making machine offered by feed pellet mill manufacturer or supplier, guide on process of poultry bird feed pellet production and how to start bird feed pellet making business with limited cost in Tanzania, Egypt, Morocco, Ghana, South Korea, etc.
Why Do You Need Bird Feed Pellets?
Pellets have all the ingredients in the balanced and calculated amount that your birds need for healthy growth. They have multiple benefits. Some of their advantages are:
Improved Bird Performance
Bird's meat and eggs are a great source of protein that humans need to gain strength. The population of the world is increasing at an alarming pace due to which there is more pressure on the poultry farmers to provide more meat and poultry products. Birds feed pellets to improve the performance of birds by giving them the needed nutrients. Birds stay more energetic and produce more eggs, meat, and feathers in less time.
Better Growth
Pellets contain all the essential nutrients that birds need for a healthy immune system, bones, and feathers growth. They do not have to eat different foods on a daily basis to get all these ingredients as they can achieve it from a single feed. It eventually boosts their growth and overall development.
Easier to Eat and Clean
Pellets are of small size due to which birds find them easier to eat. Other than that they are easier to be cleaned as well. They spill less out of the bird's feeders.