Catfish Feed Pellet Machine to Make High Quality Feed
Catfish is considered as one of the oldest species of fish. Due to its ability to adapt itself according to the environment, catfish are found in most of the places in the world. It got its name because of having cat-like whiskers on the face. Catfish are known for their species-specific bladder and skull. They are found in freshwater.


Catfish Farming
The size and weight of catfish vary but its average size is 1.2m to 1.6m. Catfish have high nutritional value due to which it is used as a food all over the world. It is a high source of protein, omega-3 fatty acids, vitamin B12, and many other important elements. As it has many health benefits, it is cultivated throughout the world. Many countries also export it to improve their economy, like China, Vietnam, Thailand, etc..
Why Should You Use Catfish Feed Pellets?
Catfish need food to grow into a healthy size. Catfish feed pellets are produced through catfish feed pellet machines. Different easily available raw materials (such as corn protein powder, straw meal, rice barn, etc.) can be used for the production of these pellets. Catfish feed pellets are a rich source of proteins, carbohydrates, fats, minerals, and many other essential elements that fish need to develop properly. (Read more: How to Make Floating Fish Feed?)


Catfish Feed Pellets
Catfish feed pellets have many health benefits for the catfish. If the right and measured amount of fats, carbohydrates, proteins, and minerals is added during the animal feed production process, the end product has high quality and good nutritional value. As catfish depend on the energy source to develop and maintain a normal metabolism rate, catfish feed pellets provide the right amount of all nutrients they need to grow.


Catfish Feed Pellet Making Process
Catfish feed pellet production is also cost-efficient as the raw material used in the process is easily available at a very reasonable price. All you need would be a small feed pellet machine for the production of pellets of variable sizes. Different varieties of catfish have different food requirements so pellets are formed by keeping those requirements in mind. Farmers who cultivate different forms of catfish can produce feed pellets according to their needs. They build these pellets via catfish feed pellet machines that are easily available at reasonable prices in the market. Many feed mill equipment manufacturers also provide a thorough guide of the whole feed pellet making procedure.
Catfish Feed Pellet Machine at Factory Price
ABC Machinery's fish feed pellet machine, designed in flat die and powered by motors, can produce up to 1100 kg per hour with low input and high output, making it the best choice for making fish feed. (Latest News: Catfish Fodder Pellets Mill Machine Exported to Nigeria >>)


Catfish Feed Pellet Machine
Small Feed Pellet Machine for Catfish Feed Pellet Making
| Model | Capacity | Power | Dimension | Weight |
| --- | --- | --- | --- | --- |
| ZLSP 120B | 60~100 KG/H | Three Phase 3/ Single Phase 2.2 KW | 750*320*680 MM | 80/100 KG |
| ZLSP 150B | 90~120 KG/H | 4 KW | 800*450*700 MM | 95/110 KG |
| ZLSP 200B | 200~300 KG/H | 7.5 KW | 1050*480*930 MM | 200/230 KG |
| ZLSP 230B | 300~400 KG/H | 11 KW | 1180*540*1000 MM | 290/320 KG |
| ZLSP 260B | 400~600 KG/H | 15 KW | 1240*540*950 MM | 320/360 KG |
| ZLSP 300B | 600~800 KG/H | 22 KW | 1300*560*1100 MM | 350/380 KG |
| ZLSP 400B | 800~1100 KG/H | 30 KW | 1560*640*1390 MM | 700 KG |
The small feed pellet machine price is relatively cheap by ABC Machinery, so farmers or small scale fish feed processing company can buy it to make their own catfish or start fish feed pellet making business. It requires less money to buy one to make the catfish feed pellets. If you have any questions about our small catfish feed pellet making machine, please contact us without any hesitation, we will give the feedback within 24hours!

Small Catfish Feed Pellet Machine Structure
Catfish feed pellet machine is composed of gear box, electric control cabinet, die, roller, etc.. Below is the structure of hot sale catfish feed pelletizing machine.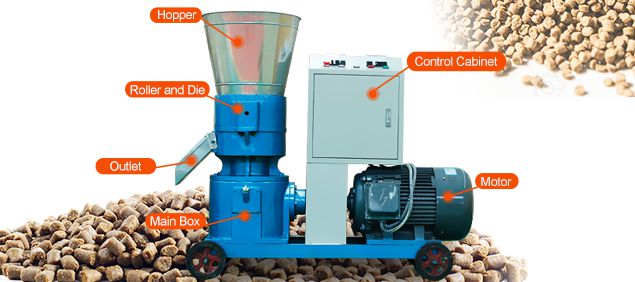 Small Catfish Feed Pellet Mill Structure
Step-by-Step Guide to the Production of Catfish Feed Pellets


Catfish Feed Pellet Mill Plant
Choosing Suitable Raw Material
The raw material is selected based on your needs and its availability. Corn grain, peanut cake, wheat bran, fish derivatives, and many other available materials are used by keeping in mind the energy needs of catfish.
Crushing Materials into a Suitable Size
Once the raw material is selected, it is properly crushed into smaller sized particles to make pellets that are dense and solid. For crushing hammer mills are used. If the mill does not work properly and large-sized particles are produced, the end product of the procedure will not be of good quality.
Mixing Ingredients Properly
In this step, a mixer is used to mix all of the ingredients properly. A calculated amount of fats, carbohydrates, proteins, minerals, and water is added and allowed to get mixed in the mixer. It produces a well-mixed mash of all ingredients.
Forming Pellets with Catfish Feed Pellet Machine
The mixture that was produced in the above step will now be passed through the extruder of the catfish feed pellet making machine. Die and blades of the machine must be properly functioning if you want to get pellets of your desired length and diameter. After passing through the pellet mill machine, pellets of your required size are obtained.
Catfish Feed Pellet Making Machine Working Video
Removing Water from Pellets
Pellets are dried with the help of a dryer to remove excess water from it. As a high amount of water can harm its quality, pellets are heated at an optimum temperature. During this step, the temperature should not exceed 60°C as a higher temperature than this can harm the structure of vitamins used in pellets.
Packing and Selling Pellets
In the end, catfish feed pellets are packed into suitable containers or packets to protect them from the harsh environment. Once these pellets are packed, you can either store them for use at your own catfish farm or sell the pellets in the market at a good price.