How to Make Biomass Pellets?
This is a key feature that anyone has to put in mind during pellets production. Wrong choice of raw materials may result in low energy output or even poor quality pellets. On the other hand, raw materials should be chosen wisely where evaluation of its applicability and suitability according to the set standards should be put in consideration. Some of the raw materials include rice husks and bamboo fiber.

Small Biomass Pellet Mill Press (Flat Die Type)
Characteristics of Biomass materials
Biomass materials should possess certain specific characteristics to suit proper production Pellets can be made from different materials as explained above. In this article some materials will be featured. Some of these materials include bamboo fiber, abaca fiber, grass and rice husks
How to Make Biomass Pellets from Bamboo Fiber?
Bamboo is one of the many forest resources that is distributed on many parts of the globe. This plant is highly valued for its high economic value. It is used as a construction material and even as food in some parts of the world. In pellet making industry, it is one of the major raw materials used.
▶ Bamboo Fiber Pellet Machine for Sale

Why choose bamboo for pellets production? Bamboo plants are widely used since it is divers as increase in bamboo mills thus processing becomes range of uses. compared to other raw materials. There is also an even easy. It also produces quality pellets that have a wide application.
Bamboo, pellets as mentioned earlier, has a wide range of application. These pellets are mainly used in heating, cooking and in industrial furnaces. The'pellets' are also believed to have high calorific value and so they are used as fuel.How to make pellets grass pelletsMaking grams pellets, come in six main steps which allows for quality pellets making. This process is cost effective and thus it is one of the most cheap production shceme.
How to Make Grass Pellets?
Collecting the cut grass and laying it in thin layers in the sun.
Preheating of the pellet mill and inserting the grass in the mill for drying as well melting its lignin for proper pellets formation.
Providing a container under the chute of the mill to offer a place for compressed pellets storage.
Adjusting the moisture of the grass depending on finished pellets.
Finally cooling of the pellets is done before storage.
Grass Pellets Application: Grass pellets are mainly used in cooking as well as to provide heating requirements just as wood but with extremely low cost.
How to Produce Pellets from Rice Husks?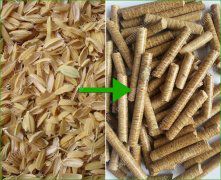 Rice husks biomass pellets production is one the emerging biofuel production since its cost effective. The general production unit is relatively cheap and involves few steps such as compressing the husks and cutting the resultant pellets into uniform sizes. This process is done through the use pelleting machine. General application of rice huskspellets
▶ Rice Staw Pellet Mill for Sale
▶ Rice Husk Pellet Mill


These pellets have a vast range of power plant, home heating and other uses. It is also used in coal-fuel plants, industrial boiler and biomass beddings.