ZLSP R300B Pellet Mill
Pellet Mill Parameters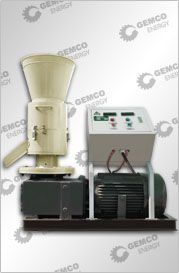 Type: ZLSP R300B
Driven by: Electric Motor
Power: Three phase 22
Output: 250-350 kg/h
Weight: 540/575 kg
Package Size: 1350x750x1400
Application: Widely used for biomass pellets from wood wastes, sawdust, banboo powder, farm residues, agricultural residues, rice husk, straw, maize straw, cornstalk, sunflower seed shell etc.

Is roller-turned ZLSP 300B wood pelletizer suitable for processing coal powder?Is roller-turned ZLSP 250B pellet mill suitable for processing coal powder?
GEMCO Roller-turned 300B pelletizer can be used to make coal powder into coal pellets. The regular moisture content is 10%~15%. The production is about 15% of wood pellet production. No need of adhesive.