ZLSP R300A Pellet Mill
Pelleting Machine Parameters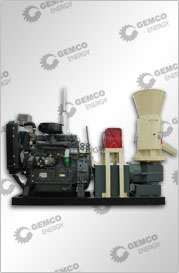 Type: ZLSP R300A
Driven by: Diesel Engine
Power: 36Hp
Output: 250-350kg/h
Weight: 850/890 kg
Package Size: 1100x700x2480
Application: Widely used for biomass pellets from wood wastes, sawdust, banboo powder, farm residues, agricultural residues, rice husk, straw, maize straw, cornstalk, sunflower seed shell etc.

Advantages of Our Sawdust Pelleting Machine
Can deal with various different biomass materials: saw dust, straw, rice husk, peanut shell, bamboo, pine, wood chips and so on.
The gear box adopts multiple geared system. The gears are made of high quality alloy steel through carburizing and quenching process. Featured with long lifespan, low noise and high endurance.
Enlarged the diameter of the press roller, so that the improve the output, and pellets quality.
Long service life: The rate of wear is greatly slowed down by redesigning the arrangement of flat die holes and increasing the contact area of die and roller. And we have got the patent for it.
All the bearings are designed with seal structure which can keep the dust outside and improve the service life of the bearings effectively.
The shell of the machine is made of high quality alloy steel. There will never be fracture problem.
Warranty
★ All parts are covered for one year unless specified below.
★ Dies and rollers(Parts # 3, 17, 18, 20 ) :300-400 working hours
★ Seal Ring, between part # 29-30 (3 months)

ABC Machinery have decades of experiences in manufacturing pelleting machines. We offer both small home use pellet machines and commercial pellet equipments with highly competitive price.