ZLSP R200A Pellet Mill
Pellet Maker Parameters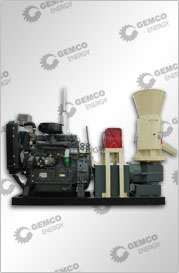 Type: ZLSP R200A
Driven by: Diesel Engine
Power: 15Hp
Output: 80-120kg/h
Weight: 320/350 kg
Package Size: 1460x950x1100
Application: Widely used for biomass pellets from wood wastes, sawdust, banboo powder, farm residues, agricultural residues, rice husk, straw, maize straw, cornstalk, sunflower seed shell etc.

ZLSP Series Diesel Pellet Maker has a patent on the design. It also has approved ISO9001:2000 and CE certification. It is featured of reasonable design, durable spare parts, high capacity and low energy consumption. Since this pellet maker machine is driven by diesel engine, you can use it anywhere without the limitation of electricity. When making pellets, the feeding, pelletizing and discharging process goes smoothly and evenly, ensures the high quality of finished pellets.