Acacia Hard Wood Pelleting Mill
With recorded growth in places such as Vietnam, Australia, Malaysia and Indonesia, Acacia wood pelleting mill is getting more and more people's attention.


Acacia Tree
What is Acacia Wood?
Acacia wood is a type of wood that is derived from the Acacia genus of trees and shrubs. This kind of tree is native to Australia but are also found in Africa, Asia, the Pacific Islands and parts of Americas. Actually, there are more than a thousand different varieties of Acacia tree. The hardwood that is derived from the tree is suitable for building long-lasting items of furniture and homewares.
How the acacia wood pellets are made?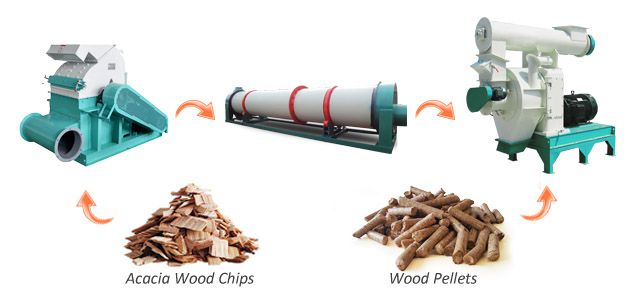 Pelleting Process and Equipment for Acacia Hard Wood Chips

Acacia wood chips or wastes is readily available for pelleting mill. First of all, wood crusher is needed to grind the large acacia wood pieces into sawdust.
Due to its high moisture content, the sawdust should be processed in the conveyer and rotary drum dryer. Drying is made possible by GEMCO which is capable of drying sawdust to moisture level of less than 18%. This make the wood pellets achieve a high performance rate.
The ring die pelleting mill is the next destination for the sawdust. The pelleting mill is a pellet making machine capable of mass producing biomass fuel pellets from various materials which include sawdust.
Next the wood pellets are taken to the cooler where they are cooled and also sieved. Sieving helps separate poor quality pellets from the good quality ones.
The high quality wood pellets are now ready for use. They can be packed if they were meant for sale.


Make Fuel Pellets from Acacia Wood Chips
For those wishing to purchase or own pellets can contact leading pellet maker manufacturers such as GEMCO. This is a leading pellet manufacturer who own more than 99 small pellet manufacturing plants all over the globe with a strong presence in countries such as Vietnam, Indonesia, Australia, Malaysia and are headquartered in China.
(Related Project: Wood Chips Pellet Production Plant in UK)
Other Common Application of Acacia Tree
Acacia can be used for various reasons except biomass pelletizing field which include;
Acacia seeds can be easily preserved for a long time due to their hard seed coats. What makes the seeds a preferred source of protein is the fact that they contain 25% more protein than other common cereals.
Acacia can also be used to make gum
Providing wood and timber
This is the most common use of acacia. Species that provide wood products include;
a) Mulga (A. mearnsii). It's commonly credit for producing some of the most attractive timber among all species.
b) Blackwood (A. melanoxylon).
c) Hickory wattle (A. mangium).
Mass consumption of acacia wood products have led to the build-up of huge piles of sawdust which originates when timber is being sawed down for various functions. This has led to investors from countries such as Vietnam grab the opportunity and convert the saw dust into wood pellets using machines such as Acacia wood pellet machine.
Buy Pelleting Mill from Reliable Manufacturer and Supplier

The reason why people love GEMCO (a brand of ABC Machinery) is because of the quality and services that comes with the company's products. This is made possible by the company's vast experience in the field of pallet making. This would not have been made possible were it not for the high quality facilities and raw materials used in manufacturing products.