Mechanical Piston Briquette Press
Mechanical stamping biomass briquetting press is a kind of curing equipment to make wood chips, sawdust, crop straws and so on into rod-like fuel through crushing, drying, compressing and molding. Biomass rods are widely used in the heating system of industrial production, government, enterprise, and domestic service.
Raw material: Many kinds of raw materials can be used, such as sawdust, straw, stalk, palm husk or filber, rice husk, wood chips, and other agriculture wastes.
Size and moisture of Raw Material to make Biomass Briquette:
The Moisture Content Should be Less than 10-20%, grain size is below 10mm.
Technology Process
Crush the raw material such as straws, twigs, barks, wood chips into fragments in about 20mm (shells and kernels need not to be crushed). Control the moisture within the range of 10-20%. The fragments are sent to screw lifter through feeding conveyor, and then are pushed into rod making machine's inlet by the screw lifter. At last, the fragments are compressed by punch.
No.
Name
Product
Qty
Power
(KW)
1
GC-MBP1000 Briquette Press
1000 kg/h (can make both 70mm wood briquette and 8mm wood pellet by changing the mould)
1
61.5kw
Noted: size of final product pellet or briquette: φ70/φ50/φ22/φ10/φ8
Making Pellets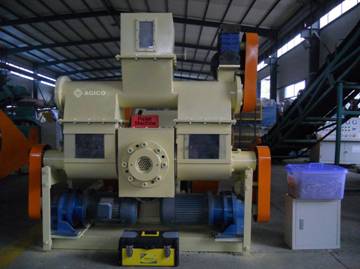 Briquette machine with mould is to produce pellet.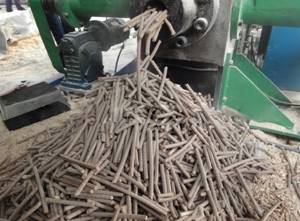 Produced Pellets
Making Briquettes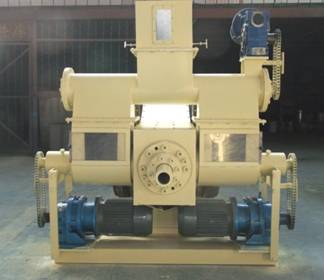 Briquette machine with mould is to produce briquette.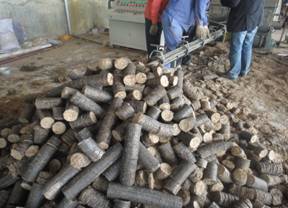 Produced Briquettes

Briquette press produces briquettes with different diameters through different molds. Finished sticks diameter can be φ70/φ22/φ10/φ8mm.