Complete Pellet Line
Pelletizing is the process of making waste materials into solid fuel. The final pellet is as clean energy used in industry and lives widely. And it is helpful to solve environment problem because most raw material is from waste biomass raw materials, such as sawdust, sunflower husk, rice husk, straw etc.
The complete pelletizing process includes crushing, drying, pelletizing, cooling and packing mainly. Each project will be made according to customer request and raw material.
Pellet Photos
| | | |
| --- | --- | --- |
| | | |
| Pine wood pellet | Green bamboo pellet | Rape stalk pellet |
| | | |
| Rice husk pellet | Wheat bran pellet | Sawdust pellet |
| | | |
| White pine wood pellet | Grass powder pellet | Tea bamboo pellet |
Flow Chart of Complete Pellet Line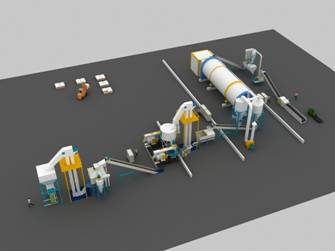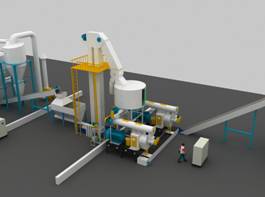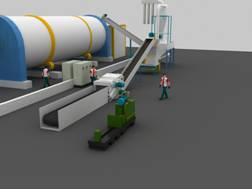 Wood Chipping and Crushing Process

When the thickness of raw wood material is >50mm, you can consider to use wood chipper to chip them into small pieces, then crush the small pieces into wood powder with diameter less 3mm by Hammer Mill, then the fine sawdust can be dryed or further pelletizing directly.

Drying Process

The best moisture of raw material to make pellet is about 13-15%. So if the input moisture of raw material is larger than 20%, we suggest to match drum dryer before pelletizing. The fuel used to drying is hot air, which come from the building stove.

Pelletizing Process

Because of high speed rotation of die, the raw material is driven to between die and roller. Under the forceful extrusion, the raw material is extruded solid and takes shape in the die hole. This plant can make different shape wood pellet such as 6mm, 8mm etc. The length of wood pellet also can be controlled according to your requests.

Cooling Process

After the pelletizing process, the temperature of the wood pellet is about 60-80 degree, we usually match counter-flow cooler to cool it, in order to pack wood pellet directly. During this process, the moisture also will be reduced about 3-4%.

Packing Process

For storage or long distance transportation, we match Packing machine in the pellet plant. You can choose to Use small bag or the tong bag package, up to different Clients needs.
Complete Wood Pellet Line Project