17th CFO Seminar: Fishmeal Production Market Analytics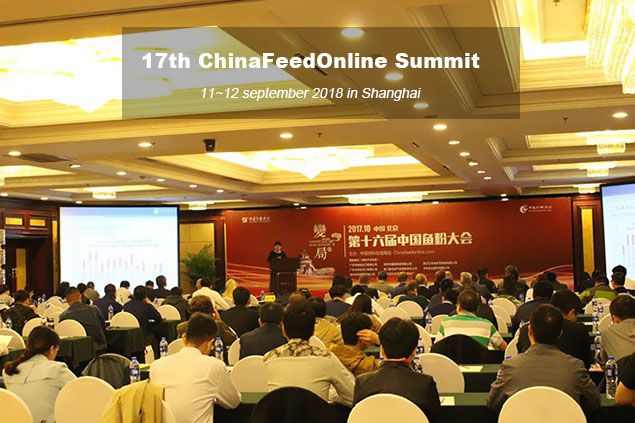 The 17th ChinaFeedOnline (CFO) Conference - a Fishmeal / Animal Protein / Vegetable Protain three-in-one seminar was held during 11~12 september 2018 in Shanghai, China. ABC Mahinery attended the seminar. Fishmeal and feed production is one of the key topics of this conference.
seven Main Countries of Fishmeal Production
Fishmeal is a brown powder produced through cooking, press drying and squeezing fresh raw fish or trimmings from food fish. Fishmeal contains typically 60%~72% protein, 10%~20% ash, 5%~12% fat and a high content of the fatty acids EPA and DHA. Fishmeal has been produced for centuries with a wide application from production of fertilizers to animal feed (livestock, poultry and aquatic feed), and feed production is the main application now. Fishmeal and fish oil production has become a thriving industry as both fishmeal and fish oil prices have soared.
(Related News: Equipment for Small Floating Fish Feed Production Line to Ecuador )





Production of Fishmeal and Fish Oil


Fishmeal is one of the common materials for making fish food or fishing bait pellets
(40 ton/h Fish Feed Pellet Production Line for your reference )

The followings are seven main fishmeal producing contries:
The main fish used to produce fishmeal in Northern Chile are anchovy, sardines and mackerel. The better catching season is from May to July. There are only three big factories producing fishmeal, and the biggest two of them control 98% of the market. In southern Chile, the catching season in Southern Chile is generally stable, with a large catch in January-August, and about 27 factories producing fishmeal.
Peru is the largest exporter of fishmeal. The fish used for the production of fishmeal are anchovy, sardines and mackerel. The former is larger in quantity, and anchovy are decreasing year by year and sardines are increasing year by year. The capture season is generally concentrated in May to July and from December to December. The average catch period is seven months and its annual output can is around 1.6 million tons. There are about 98 factories producing fishmeal.
Fishmeal is widely used in the United States, and fishmeal substitutes are also stable. The main fish used to produce fishmeal are menhaden and tuna. There are about 19 factories producing fishmeal. The fishmeal produced in the United States is mainly from July to September, and most of them are exported. Among them, 15%-17% of the fish caught are used to produce fish bone meal, and 3% is used to produce fish oil.
The fishmeal produced in Norway is similar to that of Denmark. Its annual catch is more stable due to the increase in BLUE WHITING. The capture season is concentrated in May to July and November and December. The main fish for manufacturing fishmeal is blue gadus and sand lance. Among them, blue gadus has the largest amount and continues to grow, accounting for 38%. The factories producing fishmeal have been reduced from more than 70 in the 1980s to 12, and it is expected to be 11 factories in 2000.
Similar to the UK, Germany has no apparent capture period. The main fish for fishmeal processing is menhaden, gadus and mackerel. There is only one big fishmeal factory.
Due to the large number of overfishing in Japan, although the amount of fish caught is large, there are few fish that can be used for processing fishmeal. The main fish used to produce fishmeal are mackerel, gadus and sardines. There are about 69 fishmeal making factories.
China has the largest demand for fishmeal, and there are more than 300 factories producing fishmeal. Most factory has a small production line with an average daily production capacity of 50 MTS. The problem of the fishmeal market in China is that although the output is large, it still needs to rely on imports.